ACL/Extracapsular Suture Stabilization (ESS)
Description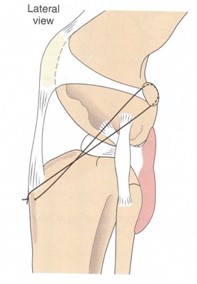 The anterior cruciate ligament (cranial cruciate ligament) is a knee ligament that may be torn or ruptured during sudden stopping or twisting movements. The resulting ligament instability causes lameness, pain, and ultimately leads to degenerative arthritis in the knee. Surgical intervention with the extracapsular suture stabilization recreates an artificial ligament in the knee to stabilize the joint.
Indications
There are different types of surgical procedures used to repair ruptured anterior cruciate ligament injuries. An extracapsular suture stabilization procedure is best indicated for cats and small dogs. Animals of this size are less likely to strain or damage the surgical repair as opposed to large dogs that are more likely to stretch or break the sutures. Conformation of the tibial bone is also used to determine which stabilization procedure will work best for an individual patient. Certain tibial deformities place excessive stress on the anterior cruciate ligament, making suture stabilization less effective even in smaller patients.
Prognosis
The prognosis for improved function following suture stabilization is good for most small dogs and cats and fair for larger dogs. Extremely active patients are more likely to stretch the repair and have continued lameness and progression of arthritis.
Your pet's recovery and well-being are our primary concerns, so please do not hesitate to call and speak with a surgical technician or surgeon if there are any questions regarding your pet's recovery.
Figure 1: Fossum, T., & Duprey, L. (1997). Small Animal Surgery (p. 694). St. Louis: Mosby-Year Book, Inc., Fig 30-69