Southwest Veterinary Surgical Service and Covid-19

To our valued pet owners and referral partners,
Southwest Veterinary Surgical Service has always been and remains committed to the health and safety of our patients, clients, and staff. COVID-19 (novel Coronavirus) is affecting all aspects of our lives and Southwest Veterinary Surgical Service is continuing our dedication to facility cleanliness and quality care. We would like to update you on the steps we are taking to to maintain health and safety while still providing the utmost service and medical care to you and your pets.
We are requiring hourly wipe downs of "high touch" areas including but not limited to counter tops, walls, door handles, light switches, clipboards, pens, monitors, keyboards and mouse, printers, phones, and restrooms. Areas to include are lobby, front desk, exam rooms (after each use), pharmacy, lab, treatment area, pack/prep room and break room.  It is important to stress that it is our routine practice to disinfect our work space, equipment, and instruments after each use using current medical industry standards.
We are still implementing limited building access to clients at this time to avoid overcrowding our facilities.
We continue to practice regular hand washing, particularly before and after handling patients, as it is one of the best ways to remove germs, avoid getting sick, and prevent the spread of germs to others.
What we are asking of our clients
UPDATED 3/7/23
Starting March 7th, 2023
We ask that:
If you are showing symptoms or have been in contact with anyone showing symptoms, please call and reschedule your appointment.
Please continue to fill out all necessary new client paperwork online for your appointment prior to your visit.
We are still allowing more than one person to accompany the patient to their appointment at this time. We just ask that you please refrain from bringing large groups of people.
As of December 20th, we are following the CDC Community Level recommendations. Maricopa County and Pima County are now considered MEDIUM RISK, therefore masks are now OPTIONAL inside all of our locations. People with symptoms, a positive test, or exposure to someone with COVID-19 please reschedule your appointment.
When you arrive for your appointment please come into the facility unless you wish to continue with curb-side service.  If you would like curb-side, please remain in your vehicle and respond to our text message to check in.  We need your name, pet name, description of your vehicle and the best phone number to reach you in your message.

P

lease also let us know if you are more comfortable with our staff wearing masks and we are happy to oblige.

Once you are in an exam room, the patient will be taken out of the room when a surgeon is available so they can examine the patient in our treatment area. The surgeon will return to the exam room with the patient to proceed with the consultation.
Payments will be processed, follow-up appointments scheduled, and discharge instructions reviewed in the exam room. Once complete, a staff member will escort you to an exit.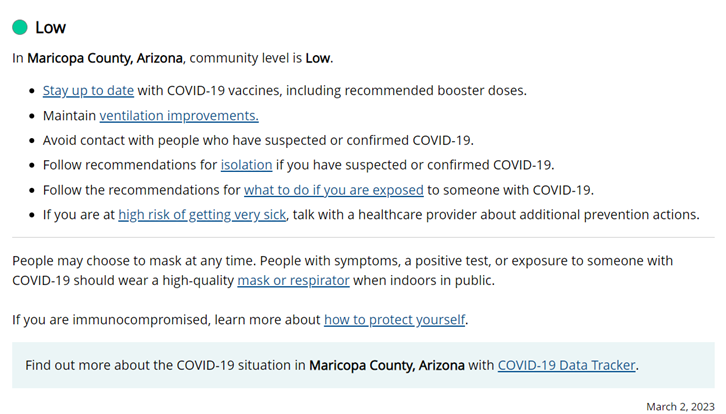 We ask that our clients also please take necessary precautions before coming to our office
If you or someone you have been in contact with are experiencing symptoms of fever, coughing, our troubled breathing we ask that you stay home and reschedule your pets appointment(s) with us.
We urge you to also follow the CDC's current guidelines.
The CDC still recommends wearing a face covering indoors in public if you are in an area of substantial or high transmission, regardless of vaccination status, along with continuing to practice social distancing measures. Wearing a cloth face mask helps slow the spread of the virus by helping people who may have the virus and do not know it from transmitting it to others. https://www.cdc.gov/coronavirus/2019-ncov/prevent-getting-sick/diy-cloth-face-coverings.html
Please practice regular hand washing, particularly after certain activities, as it is one of the best ways to remove germs, avoid getting sick, and prevent the spread of germs to others.
What does COVID-19 mean for my pet?
Per the American Veterinary Medical Association, "there is no evidence suggesting that dogs and cats can get sick from exposure to COVID-19 or transmit the disease. Nonetheless, the AVMA urges caution and says anyone who has symptoms of COVID-19, the infection caused by the virus, should limit contact with animals and have another member of the household feed, exercise and play with pets; wear a medical mask around service animals; avoid sharing food with pets; avoid face-to-face contact and hugs; and wash hands before and after any contact with pets".
"Under natural conditions—meaning, when the virus is transmitted via close contact with a COVID-19-positive person—the primary domestic animals that have been diagnosed with SARS-CoV-2 are dogs and cats. It should be noted that these species are not easily infected under natural conditions, and there is no evidence that infected cats or dogs spread the virus to other animals or to people.
Under experimental conditions, animals that appear to be susceptible to the virus include cats, dogs, and ferrets, but not horses, pigs, or poultry. Results of experimental studies in cattle are conflicting, but it doesn't appear that cattle can easily be infected.
Non-domestic animal species have been diagnosed with SARS-CoV-2 as well. To get more details about all reported cases of naturally acquired SARS-CoV-2 infections in animals, read the AVMA's summary."
"There is no evidence to suggest that animals that may be incidentally infected by humans are playing a role in the spread of COVID-19. Human outbreaks are driven by person-to-person transmission Accordingly, we see no reason to remove pets from homes even if COVID-19 has been identified in members of the household, unless there is risk that the pet itself is not able to be cared for appropriately. During this pandemic emergency, pets and people each need the support of the other and veterinarians are there to support the good health of both."
The AVMA also suggests to "Make sure you have an emergency kit prepared, with at least two weeks' worth of your pet's food and any needed medications. Usually we think about emergency kits like this in terms of what might be needed for an evacuation, but it's also good to have one prepared in the case of quarantine or self-isolation when you cannot leave your home." Click HERE for a pet disaster kit checklist for you to reference put together by the CDC.
We apologize that you may experience longer than normal wait times due to our increased safety and health precautions and altered staffing levels. We cannot tell you how much your loyalty and patience have meant to us over these past two years. We thank you for your continued understanding as we try to get back to normal as soon as possible, while still ensuring the health and safety of everyone involved! Please notify us of any questions or concerns you may have. Thank you!
Call us toll free at 1-855-274-4798.
For more information about COVID-19 recommendations for you and your pet please visit:
American Veterinary Medical Association